Return to Nav
Windscreen crack or chip? Contact your local O'Brien® in Osborne Park, WA for a fast and convenient way to get your damaged vehicle glass fixed.
O'Brien® AutoGlass Osborne Park
Unit 1
19A King Edward Road
Osborne Park
,
WA
6017
AU
Mobile or In-branch Service
We can come to you; our national network of technicians cover 99% of the population. Call 1800 053 598 to book a job to your home. Or visit our branch just off Scarborough Beach Road opposite Tool Mart, close to Innaloo Westfield.
Driving directions
Contact Us 24/7
Branch opening hours
Store Hours:
After hours service available. Call 1800 053 598 to check the available trading times at least a day before the job.
| Day of the Week | Hours |
| --- | --- |
| Mon | |
| Tue | |
| Wed | |
| Thu | |
| Fri | |
| Sat | Closed |
| Sun | Closed |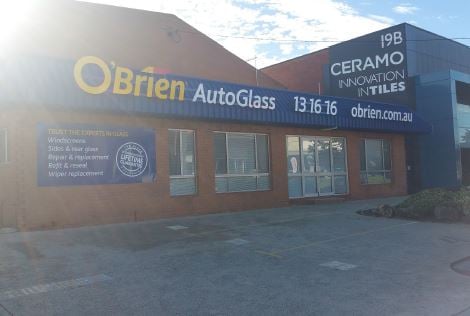 Windscreen Repair and Replacement
O'Brien® AutoGlass Osborne Park is your trusted windscreen repair and replacement expert in Perth. Speak to us on 1800 053 598 for fast and hassle-free windscreen repair and replacement, and insurance claims made easy.

With friendly advisors available 24/7 and a team of expert technicians, we're always here when you need us. You can arrange for one of our mobile technicians to come to you at a convenient time and place. Our mobile repair and replacement service areas include Perth CBD and surrounding suburbs Osborne Park, Cottesloe, Scarborough, Stirling, Mosman Park, Wembley, Subiaco, Inaloo, Karrinyup and North Beach.

You can also visit us in branch just off Scarborough Beach Rd (opposite Tool Mart). All of our AutoGlass branches are fully equipped with a clean and comfortable waiting room, tea & coffee, and free WIFI for your convenience. Drop-ins can be accommodated, but please contact us for availability.

Choose O'Brien® AutoGlass Osborne Park to repair or replace your damaged vehicle glass. Whether you're after a windscreen chip repair or replacing a car window, get in touch with us on 1800 053 598 - we are the experts available 24 hours a day, 7 days a week.
O'Brien® Vehicle Glass Services
Windscreen Repair and Replacement

We only use quality windscreen glass that's compliant with Australian and international standards. Our specialist technicians can find the perfect fit windscreen regardless the make and model of your car. The work only takes 60-90 minutes to complete, and your vehicle will then be safe to drive away around 15 minutes later.

Windscreen Chip Repairs

Our expert technicians will assess your windscreen to know if we could repair using our exclusive patented Glass Medic® tool. Repairing a chip with this makes your windscreen strong again and restore its stability to help prevent further cracks. We can repair your windscreen in around 30 minutes, and you'll be able to safely drive away immediately after.

Side and Rear Window Replacement

It is recommended to replace damaged side and rear windows immediately, as it leaves your vehicle vulnerable to theft and weather damage. Using quality glass outsourced from reputable global suppliers, our highly skilled technicians can fix and replace your side or rear windows in about 90 minutes. You can then safely drive away immediately once done.

Windscreen Calibration (ADAS)

If your vehicle is fitted with ADAS, it is important to have it recalibrated after windscreen replacement as a vehicle manufacturer requirement. We have in-house experts who can assist with ADAS recalibration for many vehicle types using our Cal-Tech® system. If your vehicle model is not yet supported, we will arrange the recalibration to one of our trusted car manufacturer dealerships on your behalf.
Windscreen Repair and Replacement FAQ's
How much does it cost to replace a windscreen?
The cost of a windscreen replacement depends on several different factors. This includes the make, model and age of your vehicle, features and technology embedded into the windscreen, and if you have an insurance policy which covers glass replacement. Contact us so we can arrange a price quotation for you.
Does O'Brien® offer ADAS recalibration?
Yes we do. We have partnered with BOSCH to deliver an innovative solution in recalibration technology for many vehicle types, which we call Cal-Tech®. This is available in most of our larger branches and offers you a seamless windscreen repair or replacement solution when your vehicle's camera is one of those that Cal-Tech® can recalibrate.
How long do windscreen wipers last?
Wiper blades usually last 6 to 12 months depending on the frequency to which your vehicle is used in adverse conditions. We recommend changing them as soon as you notice a difference in the clarity of your windscreen under any weather condition.
What method of payment do you accept?
We accept debit cards and major credit cards: Visa, MasterCard, and American Express.
Our service areas include:
Perth CBD
Cottesloe
Scarborough
Stirling
Mosman Park
Wembley
Subiaco
Inaloo
Karrinyup
North Beach
Your trusted Osborne Park windscreen repair and replacement experts
• Fast, friendly service

• Highly trained, expert technicians

• Your choice of either our mobile or branch services

• Quality glass meeting Australian and international standards

• Use of our exclusive tooling which minimises potential damage to the windscreen aperture

• Emergency call-out option for urgent repairs (fees apply)

• Replacement mouldings

• Safe disposal of your damaged or broken glass

• A lifetime guarantee on our workmanship

Call us on 1800 053 598 for a quote, or complete our online form and our friendly advisors will call you back to discuss.
What customers are saying about us
Karen Walker
Efficient, timely and so courteous and professional! A big thank you especially to Regan!
Alex Chao
The service I received at Osborne Park was very good. I had a few issues with the actual replacement windscreens (beyond their control) on my Audi, but the staff made sure that I did end up with a perfect job and a new windscreen free of defects.
Joshua James
Got job done quickly and no problems, phone centre was very helpful and professional.
Chris D'Roza
Had my front windscreen replaced. Great friendly service. Everything was done professional manner. Great Job.